囍宴
台灣同志的結婚奮鬥史
台灣在2019年5月17日完成了同性婚姻的立法,成為亞洲第一個通過同婚的國家。

本次展覽以台灣傳統結婚文化來介紹台灣的同性婚姻運動,以「台灣同志辦喜事」作為展覽核心,從1993年李安執導的電影《 囍宴》發想,透過台式囍宴的特殊文化,輔以互動裝置呈現同性婚姻合法化的過程,以及婚權運動遭受的困境和台灣爭取民主、自由、人權的歷史。

適逢紐約同志大遊行期間以及石牆事件50週年,本展覽除了呼應主流社會關心同志權益的趨勢之外,也想向國際社會分享「非西方」的台灣經驗來宣揚普世人權的價值,邀請全球各地的朋友一起慶祝這份喜悅!
The Wedding Banquet
A Celebration of Same-Sex Marriage in Taiwan and Beyond
Taiwan legalized same-sex marriage on May 17, 2019, the first in Asia to do so. This exhibition shares Taiwan's experience through decades of conflicts, social movements, and optimism to make this change possible.
The title of the exhibition, "The Wedding Banquet," refers to Ang Lee's famous movie from 1993. Like the movie, this exhibition brings stories of Taiwan's LGBTQ+ community, as well as its changing wedding culture, to international audiences. The exhibition opens on June 28, 2019, in unity with NYC's Pride month and 50th anniversary of Stonewall, to celebrate not only Taiwan's achievement, but also the LGBTQ+ community worldwide.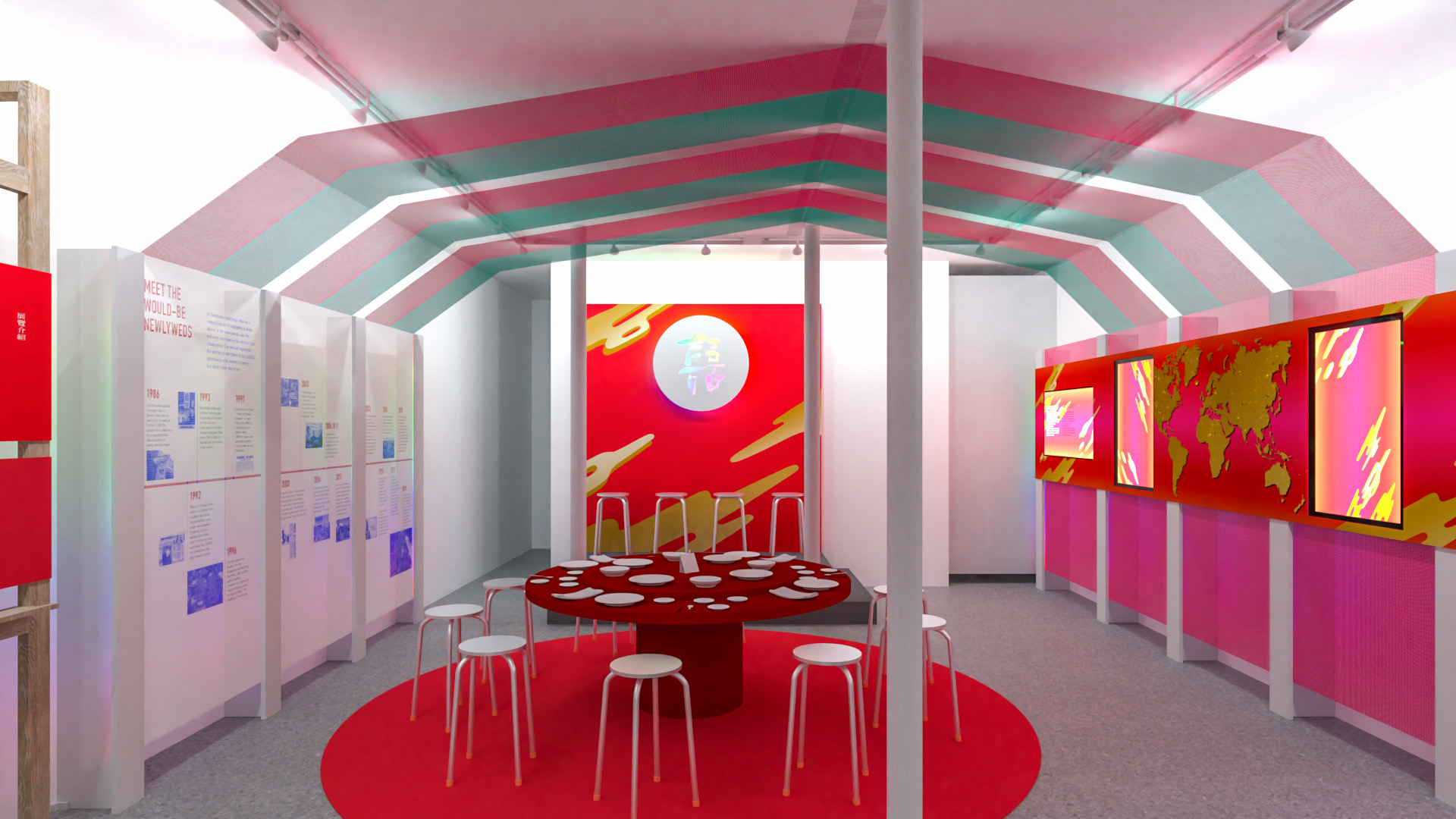 歡慶台灣同志辦喜事!
歡迎來到台灣同志婚禮,首先在新人接待區簽名,慶祝歷史性的一刻!新人相簿精選了台灣同運大事件,重溫同志們30多年來走過的苦澀和歡笑。

踏入新人準備室,回憶起在櫃子裡不被社會接納的恐懼,同志依然努力活出自己,走出櫃子,迎接新篇章!到大辦桌跟其他賓客一起品味12道綜合苦辣酸甜的菜色,如同2016年至今的立法過程。踏上新人舞台的那一刻,台灣同志終於可以結婚了!

在新人合照區紀錄這一刻的感動,來自世界各地的祝福不斷湧來,慶祝台灣邁向人權的里程碑!最後一起向新人敬酒,別忘了在送客區帶走這份喜悅與祝福!
Welcome to the Wedding Banquet!
What can you do here? As soon as you enter, join in Taiwanese traditions, like signing the guest book and sharing a wish with the newlyweds. Throughout the "banquet hall," discover the moving stories of newlyweds (and would-be newlyweds), past and present. At the central Wedding Table, the most well-known symbol of a Taiwanese wedding, learn about the long, ultimately successful journey that led to Taiwan's legalization of same-sex marriage. And leave with a final toast and a gift!
展覽資訊
Exhibition Information
開幕
6月28日 下午6點(憑邀請函入場)
日期
6月29日 - 7月6日
時間
週日到週四 11:00-21:00
週五、週六 11:00-22:00
地點
213 Bowery, New York, NY
Opening
June 28, 2019, 6:00 pm (Invitation Only)
Exhibition
June 29 - July 6, 2019
Operation Hour
Sun to Thur 11:00am-9:00pm
Fri&Sat 11:00am-10:00pm
Location
213 Bowery, New York, NY 10002
主題
哲學星期五@紐約--台灣婚姻平權
時間
6月21日 晚上7點-9點
講者
鄧筑媛 - 婚姻平權大平台副總召、法案遊說經理
黎璿萍 - 台灣同志家庭權益促進會執行秘書
地點
Bluestockings書店 (172 Allen St, New York, NY 10002)
Event
Café Philo@NY --- The Marriage Equality Campaign in Taiwan
Time
June 21st 7pm to 9pm
Speakers
Joyce Chu-Yuan Teng, Deputy Coordinator & Lobbying Manager of Marriage Equality Coalition Taiwan
Reese Hsuan-Ping Li, Executive Secretary of Taiwan LGBT Family Rights Advocacy
Venue
Bluestockings Bookstore, Cafe & Activist Center (172 Allen St, New York, NY 10002)
主題
婚姻平權紀錄片放映暨映後座談會
時間
6月29日 下午2點-4點
講者
林志杰 - 台灣國際酷兒影展策展人、杰德影音創辦人暨執行長
呂欣潔 - 婚姻平權大平台總召
董陵軒 - 獨立紀錄片製作人、紐約市立大學紐克學院助理教授
地點
Houston Street Center, 273 Bowery, New York, NY, 10002
Event
Taiwan! Let's Get Married-Documentary Screening & Discussion
Time
June 29th 2pm to 4pm
Speakers
Jay Lin, Founder and director of the Taiwan International Queer Film Festival and of Portico Media
Jennifer Lu, Chief Coordinator of Marriage Equality Coalition Taiwan
Larry Tung, Assistant Professor, York College of The City University of New York
Venue
Houston Street Center, 273 Bowery, New York
Work for Marriage Equality Coalition Taiwan
Jennifer Lu is a social worker, activist, writer and political worker. She has been devoting in LGBT rights and political reform movement for 15 years. In January 2016, Jennifer represented social democratic party and ran for a parliamentary seat in general elections. During her election campaign, she and her team successfully raised the visibility of LGBT issues and pushed to include equal rights issues and young generation political participation on the agenda of the Taiwan parliament. Now she is Chief Coordinator of Marriage Equality Coalition Taiwan and Senior Research Fellow at Taiwan Tongzhi(LGBTQ+) Hotline Association. Jennifer and her team organized a successful rally on Human Rights Day in December in 2016, which was over 250,000 people to stand up for supporting Marriage Equality and this rally has pushed whole society to achieve the significant milestone of Marriage Equality in Taiwan

婚姻平權大平台總召集人,同志諮詢熱線資深研究員。參與同志運動 15 年,曾代表社會民主黨參選家鄉的立委,在過程中用自身故事引發社會對於婚姻平權的討論,選舉後投入婚姻平權的修法工作。關注同志平權、長期照顧、性平教育、還有台灣的國際地位和主權議題,從 2013 年開始參與同志人權國際工作,2016 年帶領婚姻平權大平台團隊於 12 月 10 日世界人權日舉辦超過 25 萬人的支持婚姻平權凱道音樂會,也在婚權運動中多次接受國際組織與媒體的採訪,讓世界看到台灣。
Work for JIC Media Group
Ting is a storyteller that enjoying creating a site-specific installation evokes poetic moments in the public space. She has worked on high-profile projects such as media experience design for the Vanke World Pavilion in 2015, and APEX award in 2017. Her work has been shown in Grand Central Station, Times Square, Cinekids Festival and Kaohsiung Film Festival, and written about in The New York Times, Performance Journal, CNA News, and Taipei Times.

互動影像藝術家、導演、編劇,集刻互動媒體共同創辦人,畢業於紐約大學互動電信研究所(NYU ITP)。藝術創作《Dear Deer》曾獲紐約大都會運輸署(MTA)邀請於紐約中央車站展出,入選紐約Dumbo Art festival,荷蘭Cinekids Festival,並受文化部補助,於紐約下東城MILES 畫廊舉行個展。曾擔任《Hello 孔子世界巡迴多媒體互動展—紐約場》設計總監,並參與2015年世界博覽會萬科館之媒體設計。 現任職於紐約知名互動設計公司ESI Design,負責沈浸式空間體驗設計,作品曾獲得2017 年 APEX award ,專注於新媒體藝術、影片,以及空間應用。作品曾被刊登於知名媒體如紐約時報、Ad Week、Rolling Stone 等。並有多項藝術互動裝置被永久安裝於芝加哥、紐約、舊金山等城市。


Work for JIC Media Group
Born in Taiwan, Yi-Feng Li is an outstanding producer in New York City. Her first film, "Hide and Seek," was nominated for awards at several international film festivals, and other films she has produced have also screened in over 30 film festivals. Also an experienced programmer, Yi-Feng recently began combining technology and art together— by creating inspiring and interesting artwork and exhibitions, she wishes to pave another way for traditional filmmakers and new media creators to pursue new opportunities.

集刻互動媒體創辦人,參與過多部大型電影、電視劇的拍攝及製作與許多大型展覽統籌管理。曾擔任《Hello 孔子世界巡迴多媒體互動展—紐約場》,以及《紐約林肯中心春晚》互動媒體專案經理。曾在紐約中央車站、時代廣場、大都會博物館、自由女神、中央公園等場地負責多項重要展覽和影像拍攝之協調運作。除負責各項國際專案外,近年活躍於亞洲地區,專注於各項拍攝製作,與展覽裝置規劃。


Work for Hello Taiwan
小時來美,為電腦工程師,是許多紐約大型台灣活動的幕後策劃。自2002年起擔任美國台灣人最大的 Passport to Taiwan 活動推手,十八年來不間斷。同時也以美國民眾為目標,在主流場所及活動中宣傳台灣。大聯盟及美國職籃都有合作活動,也曾數年在彩虹遊行中安排台灣花車參加。兩年前開始以珍奶為主角的珍奶節,在紐約造成轟動。


Work for C&M Creative Space
Chieh is an NYC-based Interdisciplinary Experience Designer. Originally came from Taiwan. His primary focus right now is to experiment with different ways to interface the physical world through his interests in visual aesthetics, interaction design, creative technology, and UX design. Currently, he holds C&M Creative Space in Bushwick, Brooklyn.

陳芥平,來自台北台灣,紐約互動裝置設計師,畢業於 Parsons Design and Technology 研究所,作品專於使用者經驗、視覺及人機互動以連結真實世界,目前為 C&M Creative Space 負責人。


Debra Everett-Lane, Assistant Director of Special Projects at the American Museum of Natural History, has extensive experience creating games, exhibits, activities, and programs that engage adults and children alike, and that make them curious about the world around them. She is also co-producer of the Come Out & Play Festival, an outdoor festival of original games that attracts more than 1,000 children and adults annually.
Work for Applennett Design
Yuan-Chun Huang is an independent curator, with a background in planning and design, specialize in space curation. She has worked in a high-profile design agency as exhibition planner, joined the project such as "The Palace Museum Qianlong Chao Exhibition Tour" "Marriage Equality - Valentine's Day Show", "Innovation Exhibition of Taiwan Industrial Research Institute". She specializes in combining content with space to create a unique audience experience.

跨領域設計工作者,兼具企劃與設計背景,專長為空間策展。曾任擔任光助大房展覽統籌、TEDxTaipei專案統籌與設計規劃、觀念藝術家助理。參與專案包括2014-2019《TEDxTaipei年度大會》、《婚姻平權愛情故事館》《故宮乾隆潮多媒體藝術展台中巡展》等。目前為獨立策展人,近年多與不同單位合作,專注於展覽策劃與空間設計。
Work for Marriage Equality Coalition Taiwan
Nai-chia Chen is an activist, political worker who holds a MSc of International Politics from SOAS, University of London. Before joining Marriage Equality Coalition Taiwan, Chen was the Press Officer of New Power Party, the third largest political party in Taiwan, and served as parliamentary aide for one session. Nai-chia looked into the winding path of Taiwan "Queer Diplomacy" and argued that due to the special international status of Taiwan, through LGBTQ+ rights, Taiwan "come out and stand out" in international politics.

台灣高雄人,畢業於倫敦大學國際政治碩士,曾任時代力量中央黨部新聞聯絡人、立法院法案助理,也曾經做過商業不動產和餐飲業。
Niu is a designer from Taipei, Taiwan. She has received her MFA of Visual Arts at Minneapolis College of Art and Design in 14'. From 14'-15', Desiree worked as a digital designer at Wework headquarter in New York City. After coming back to Taiwan, she worked in Onion Design Associates for a while and in 17', she becomes an independent graphic/web designer in Taipei. She translated one design book "Inside Paragraphs: Typographic Fundamentals" to traditional character version in 17'. Desiree believes in creating compelling and high concept design to explore the relationship between human comprehension and behaviors that neglectfully does not be noticed in our daily life.

牛子齊,視覺設計師,於2014年取得MCAD藝術碩士學位,在紐約Wework總部擔任數位產品設計師。回台後成為獨立接案設計師,作品收入在亞太設計年鑑、俄羅斯國際金峰海報展。2018年受日本國際交流基金會邀請參與「Door to Asia」計劃,前往日本気仙沼市進行地方品牌再造合作。同時兼任設計書籍翻譯,作品為INSIDE PARAGRAPHS: typographic fundamentals「圖解歐文字體排印學」。


Min Liu is a Taiwanese animation artist, illustrator and tattoo artist. She focuses on hand-drawn animation and explores the possibility of traditional animation with fine art. Her style is unique and with a dark sense of humor. She plays with increased consideration for negative space and a strong color palette to create a special and impressive visual. Her works are selected in major international festivals, including Annecy, KILK!, and Japan Media Art Festival.

劉旻,台灣籍動畫藝術家,插畫家兼刺青師。她的風格俱有獨特的黑色幽默,作品中運用大量的負空間(negative space)與強烈的色彩組合,創造出特別且令人印象深刻的個人特色。作品曾入選多項國際影展,包括安錫國際動畫影展,KILK! 和 Japan Media Arts Festival。


Mennie is a multidisciplinary designer and artist with 6+ years of experience in crafting engaging products, services, and exhibitions. Her work spans multiple mediums including print, digital products, and physical spaces. She has participated in several international design and art exhibitions and has also won a number of design awards.

視覺與多媒體互動設計師,畢業於紐約帕森設計學院(Parsons The New School for Design)設計與科技應用研究所(Design and Technology, MFA)。曾在紐約多項大型展覽專案擔任藝術總監,帶領視覺設計團隊負責整體視覺規劃及執行。專長品牌形象與展覽規劃、數位產品設計、體驗與互動設計,作品橫跨平面視覺、數位產品、實體裝置、空間應用等。作品曾獲台北國際書展設計金蝶獎—金獎,曾參與台北詩歌節、台北藝穗節、好時光公共藝術節等,並獲邀在SXSW、Northside Festival、Loolapalooza音樂節、New York Hall of Science、紐約時代廣場、紐約中央車站以及各大藝廊展出作品。
Issa is a Brooklyn-based visual designer – a curious, relaxed, creative type of person. She obtained her MFA in Designer as Entrepreneur Program from School of Visual Arts in New York City. She has worked for clients such as Chipotle, Facebook, LinkedIn, Microsoft, HP, Salesforce, and New York Philharmonic.
She's a type lover, and fond of clean aesthetics, photography and minimalist design. She spent most of the time working on digital products and branding. In her free time, she learns new things about literally anything, and she believes in a life where work and play are forever intertwined.
Han is responsible for space planning, architectural coordination, production observation and overall design direction for physical spaces. He provides concept diagrams, models 3D environments and renders spaces from both an experiential and pragmatic point of view. He has experience across a range of project types and industries, including hospitality, corporate, healthcare, institutional, residential and commercial. At ESI he has played an essential role on a wide range of projects, including the ESC Game Theater, Peopling of America Center on Ellis Island, and many properties for Beacon Capital Partners, coordinating with the client and multiple consultants during the course of the projects to maintain design intent and quality. Prior to joining ESI, Han worked at Jorge Mastropietro Architects Atelier (JMA), No. 4 Studio, and Kushner Studios. He earned a B.F.A. in Interior Design, with a minor in Art History, from Pratt Institute


Zhihang is an architectural designer, responsible for physical space planning, visualization and production observation of the exhibition space. He utilizes his understanding of space and visualization skills to cooperate with other designers and help accelerate the iteration of design process, while providing his insights from an architectural standpoint. He has experience in the architecture industry in the past, and experiential design / media architecture currently at ESI. His experience range from museum architecture, residential buildings, educational buildings, to office building interiors and exhibits. Besides that, Zhihang has an interest in utilizing digital tools to aid design process in not only form studies, but also group design decision makings and fabrication. Zhihang holds a Master's degree in Advanced Architectural Design from Columbia University, and a Bachelor's degree in Architecture from Tsinghua University.


Yu-ting Lin is a set designer who primarily works in theater, film, and exhibition. Her work has been featured multiple major press media, including New York Times and Time Out, as well as participated in several international festivals. Recent credits are Vanya and Sonia and Masha and Spike(NYU Grad Acting, 2016), Made in China(59E59, 2017), August: Osage County(Stella Adler Studio of Acting, 2018) Film credits include: Wind Flower(2018), The Ping Pong Coach(2016, Tribeca Film Festival: Student Visionary Award).


Work for Wilderdesign and Associates, LLC
Work for Wilderdesign and Associates, LLC
A creative technologist focused on tangible experience design.
Rag is a Brooklyn based designer and technologist with an interest in building immersive spaces that blend interactivity, narratives, and emergence.
Hsin-Hwa Tai is a recording producer based in NYC, received her duo master degree in both Music Technology and Tonmeister from New York University. Her major focus is recording production. Because of the loves in a wide range of music, she keep looking into possibilities of put all kinds of sound together. Early works include album recording, audio post-production for film, creating SFX for animation, and experimental music. In recent years, Hsin-Hwa has been actively looking for her own cultural identity in different forms of sound creation, such as sound installation and immersive audio.
Lanty Hou is an experienced marketer with a demonstrated history of working in tech startup, and consumer products. After acquring her Master Degree in Music Business, Lanty devotes herself in the music industry with the goal of connecting Asian and Western music market.


Chia-lung Liu is a motion graphics designer / animator based in New York. He has been participated in various projects include TV network packages, festival branding and documentaries to dedicated his design and animation skills at studio BIGSTAR for years. Recent projects includes American Music Award promo, Vikings Comic Com spot, titles for Inside North Korea, The Circus Season 3 etc.


Fay is a freelance user interface designer with an engineering background. Focused on visual, user interface and microinteractions design. She is passionate about solving problems and hope to better society with design.

工程背景的介面設計師、自由接案者,擁有許多與各領域設計師、工程師合作的經驗,專注在視覺、介面及微互動設計,熱衷於解決問題,希望用設計的力量讓社會變得更好。


A product designer with an engineering background. Worked with startups and LGBT+ NGO in Taiwan. Also a vegetarian, hoping to make a better society with design!

工程背景的介面設計師、素食者,曾服務數個台灣新創公司與婚姻平權大平台,致力於用設計與科技改變世界。


Chang Tieh-chih is a writer and an influential public intellectual in Taiwan as well as in Hong Kong and Mainland China. His work has covered a wide range of topics from popular culture, rock music, to politics and social movement. He is the author of several books, and frequently writes in major newspapers and magazines in Taiwan and across the Chinese-speaking world. Previously, Chang was a Ph.D candidate in political science at Columbia University in New York.
婚姻平權大平台於2016年11月正式成軍,主要目標為推動台灣婚姻平權的通過,經歷了立法院修法、大法官釋憲、反同公投的挑戰。本平台由五個同志與性別組織所組成,分別為:台灣同志諮詢熱線協會、台灣同志家庭權益促進會、婦女新知基金會、台灣同志人權法案遊說聯盟、GagaOOLala同志影音平台等共同組成。
Gagaoolala - Find YourStory
Taiwan Tongzhi Hotline Association
Taiwan LGBT Family Advocacy
Gagaoolala - Find YourStory
Taiwan Tongzhi Hotline Association
Taiwan LGBT Family Advocacy
指導贊助單位
Advised and sponsored by
The Ministry of Culture of Taiwan (ROC)
策展協力
Co-curated by
C&M Creative Space
Applennett Design
The One Production Studio
Wilderdesign and Associates, LLC
特別感謝
Special thanks to
Equality Without Borders
support Taiwan become the First in Asia
Left Brain provide gifts
2019 COPYRIGHT© TAIWAN BANGUET. ALL RIGHTS RESERVED.